b.l.o.w. downloads & audio
The Player to the right should house a whole bunch of b.l.o.w. tracks for you to spin through, including a full concert from Bristol in 1995 that was broadcast on BBC Radio 1 (more info & full download below) and a few rarities. Enjoy.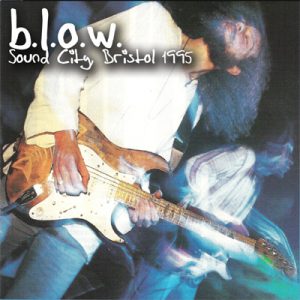 Live at Sound City 1995 (Broadcast on Radio 1)
This Bristol concert was broadcast nationally in the UK on BBC Radio 1 FM in 1995.
The recording comes from a tape made at the time, so the quality is not crystal clear, but is pretty good given the source and age.
Along with tracks from "Man & Goat Alike" and the non-album, "…Angel Sitting In A Tree" the band performed The Beatles' "Yer Blues" & Jimi Hendrix's "Stone Free".
The only issue with this recording is a slight break in "Stone Free" where the tape ran out & the side had to be switched…
The days of C90s, there.
So there's about 30 seconds missing from that particular track.
Other than that, it's the complete gig. Enjoy.
Download the full Bristol concert (with custom artwork) here.
DOWNLOAD
---
The Legalise It EP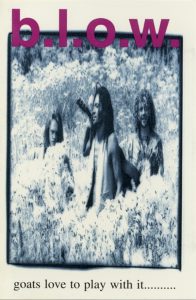 It seems it might be an idea to make some full releases available over this site.
There's been a bit of interest from fans emailing for tracks, so – let's see how it goes – starting with the original demo tape / fan club only release "Legalise It".
If we receive any objections (unlikely) then maybe we can look at adding further releases over time.
Download the full tape with all the artwork below.
Listen to b.l.o.w. here!
Update Required
To play the media you will need to either update your browser to a recent version or update your
Flash plugin
.
---