About b.l.o.w.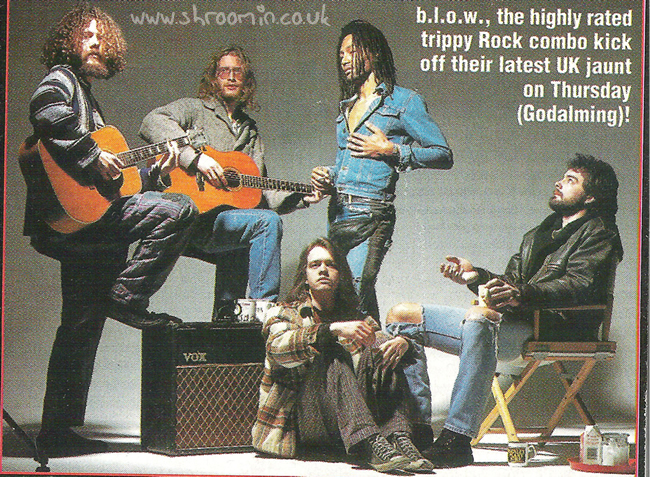 b.l.o.w.'s origins lie in the end of another band.
Little Angels formed in Scarborough, England in 1984, and over the next ten years went on to become one of the more successful British rock bands of the late 80s / early 90s, becoming well known in the UK & were making some headway in the U.S. at the time of their somewhat acrimonious split in 1994.
Wasting very little time, founding members Bruce John Dickinson (guitar) and Jimmy Dickinson (keys), along with drummer Mark Richardson, who had joined the band in time for their third album, Jam, set about building up a new project.
Finding a vocalist proved relatively easy. Dave Gooding had played guitar for No Sweat, a band that peviously opened for Little Angels on tour.
Having met and become friends on the road, the Dickinson brothers knew that Gooding could front the band.
With the addition of bassist Nicky Boyes, b.l.o.w. was born.
By the end of 1994, b.l.o.w., had released their first "mini" album, Man & Goat Alike within 5 months of getting together.
The album itself was recorded over a mere four days at Jacob's Studios in Surrey. b.l.o.w. was soon out on the road, playing alongside the likes of Thunder.
Presenting a distinctly "homegrown" image, b.l.o.w. issued demo tapes to fan club subscribers & released their first mini-album through mail order in music magazine Kerrang! before it was available in the shops.
Spending much of 1995 on tour, the band released what would prove to be their only full length album in 1996. "Pigs" featured ten tracks and was, again, released on their own Cottage Industry label.
Whilst Man & Goat Alike was largely populated with Hendrix-y guitar grooves, Pigs seemed darker and more introspective – a Doors-y ambience courtesy of Jim Dickinson's keys prevailed on a lot of the material.
It's worth noting that by the time of the release of PIGS, the only credited (and photographed) members of the band were the Dickinson brothers & Gooding.
On PIGS bass & drums are credited to Ashley Reakes (sic) & Michael Bowes respectively, but only as secondary members. (they can be seen in some pictures on this site.) Boyes is thanked "especially", whilst no mention is made of Richardson beyond a writing credit for the track King Pig. (Mark Richardson, it transpired, had departed to join Skunk Anansie – who recruited him in time for their second record, Stoosh. )
Sadly, little was heard from the b.l.o.w. camp after that, a particularly low-key cover of "It's Too Late" slipped out unnoticed on a Small Faces tribute album, and it was soon made known that they had called it a day.
When b.l.o.w. folded, Jimmy Dickinson became a member of Younger Younger 28's who had some success in Japan.
Bruce went on to teach at, and manage, The Academy of Contemporary Music in Guildford, Surrey.
He is now the Managing Director of the Brighton Institute of Modern Music.
Mark Richardson would eventually join Feeder, following the death of their drummer Jon Lee, before leaving at the end of 2008 to rejoin a reuinited Skunk Anansie.
Nothing was known of the whereabouts of bassist Nicky Boyes & vocalist Dave Gooding, until Dave began performing again under the name of David9Lunas in 2009.
He has set up a website, and information on his latest projects can be found here. Boyes' whereabouts remain a mystery.
In January 2012, it was announced that Little Angels were to reform for a series of warm up shows, leading towards a special guest appearance at The Download Festival, Donington in the summer.
This turn of events had been set in motion by the passing of original 'Angels drummer Michael Lee, and band members reconnecting at his funeral.  Whilst no b.l.o.w. material was on the table, the Little Angels reunion would also see the reunion of Bruce, Jim & Mark once again.
These gigs were so well received that they embarked on two more short UK tours before calling time on Little Angels once again.